We love to be presented with a challenge, our experience is wide and varied. Below is a small list of our experience and expertise, however its best you get in contact with us to discuss your specific needs; just because it's not here doesn't mean we don't do it.
Industrial automation was born out of necessity as the industrial revolution began manufacturing became mainstream and now affects almost everything produced and consumed. Manufacturing had to become more efficient, cost effective, and safer while maintaining or increasing quality.
Industrial automation is Jet Automation's core competency. We are passionate about meeting a customer's automation challenge head on and engineering the perfect solution to achieve the desired outcome.
As we exit the third industrial revolution and launch into the fourth where the factory and office floors will merge in a way that will provide the next manufacturing and productivity transformation. This is all happening at a rate of technological advancement never experienced before and nobody is better positioned to help you with this transformation and your automation needs than Jet Automation.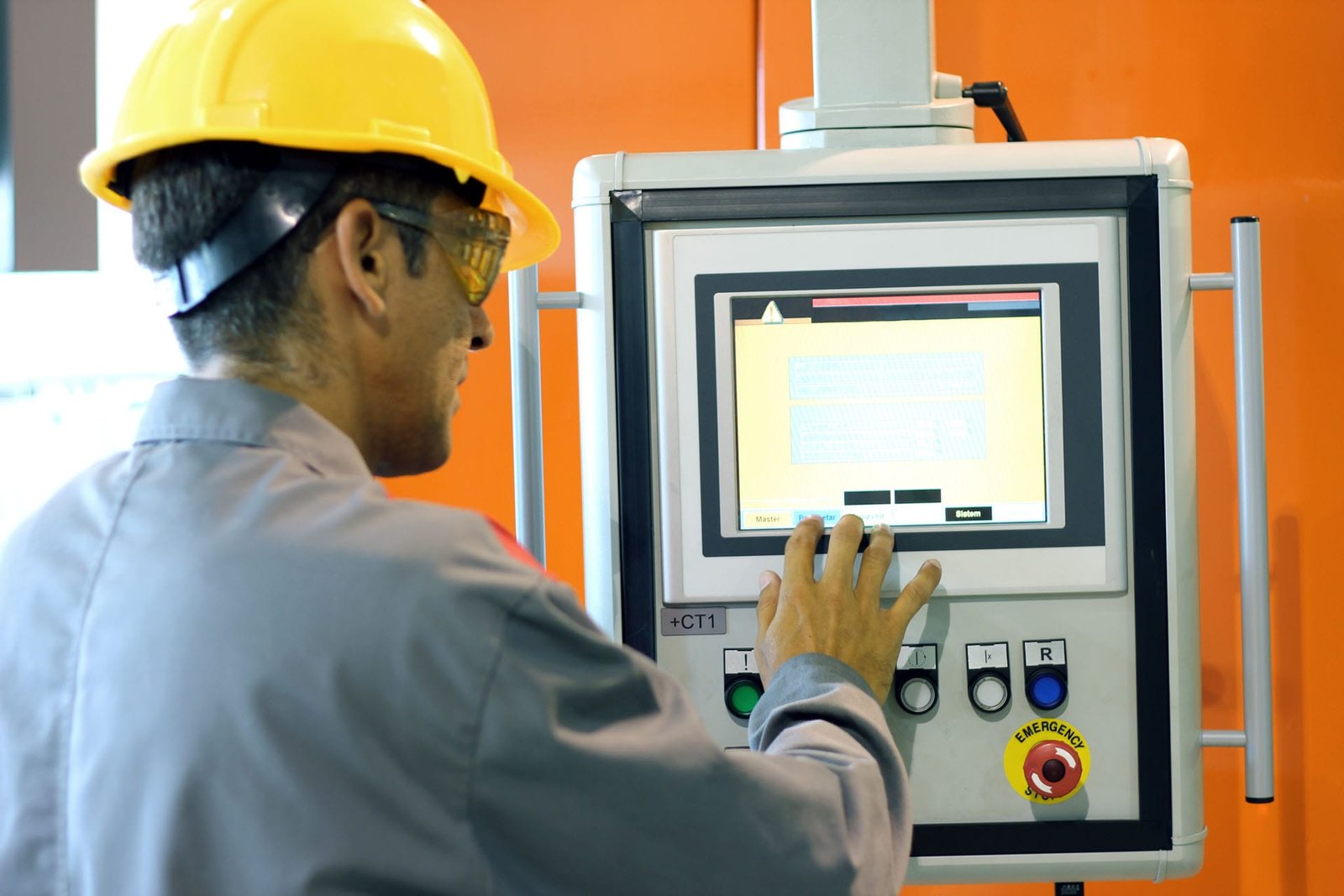 With global experience in designing custom electrical controls we are able to work with our customers to provide electrical designs that will provide everything to satisfy immediate needs along with making recommendations to ensure the distribution and controls system will meet any additional demands and requirements that may arise in the future.
We are experienced in standard electrical engineering design techniques with the ability to turn these into schematics using AutoCAD, AutoCAD Electrical or Eplan depending on the customer's requirements. The designs can be independently inspected by a third party if required to achieve the compliance suited to your needs and specifications dependent on where the final project installation may be.
Our electrical engineering team has direct access to our in-house panel shop to ensure projects are built to specifications and deadlines. Having our engineering and panel shop under the same roof provides a compliment to all disciplines. Our engineering team is able to draw on the hands-on experience of our panel builders in order to find the design that creates the best functional layout.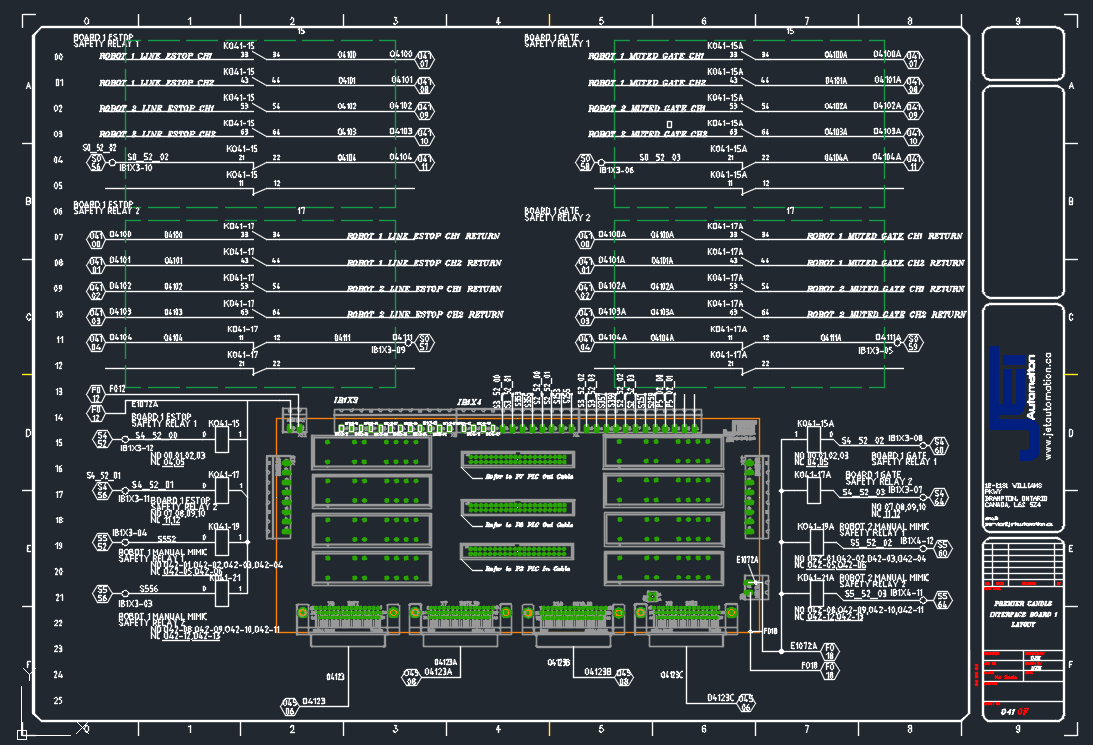 With Mechanical and Mechatronics engineers and designers on staff we are well equipped to tackle mechanical design challenges in order to compliment any custom machine build and robotics project requirements.
This extends to pneumatic and conveyor systems where we have extensive experience in designing pneumatic and conveyor control systems required for automated system design including vacuum systems.
Our controls engineers have extensive experience in hydraulic, pneumatic, temperature and pressure control systems. Using available technologies Jet automation will design and develop the hardware and software required to provide the precise control required for your application.
An example of challenging projects we have been presented with & completed include:
- Hydraulic 4 and 6 post lifting and precise positioning and lowering of AGV with 100,000 lb rated loading platform. - Plastics blow molding and injection molding heater and injection/parison control systems. - Pneumatic rod-less cylinder precise proportional positioning.
Robotics has led into manufacturing that is more efficient, repeatable & versatile, enabling rapid switching between products being manufactured on the same line. Jet automation has extensive experience in integrating robotics. From standalone pick and place robots, to complete robotic cells which automate part or all of the process.
Robotics has begun evolving at an increasing pace with many new and exciting technologies available. Industrial robots have evolved and come in many forms from simple high speed Scara robots to more complex parallel delta robots. These industrial robots are generally what come to mind when thinking of a robot in a factory environment, collaborative robots or Co-Bots are making their way into the industrial world and promise exciting opportunities to work alongside employees and assist them with dangerous or repetitive tasks.
Jet Automation has the expertise and knowledge to guide you through what robot and technology is best suited to your application by providing 3D walk throughs, layouts and proof of concept simulations to help you picture the end result in your application and factory environment.
Safety systems have rightfully evolved from being non-existent or an after thought, to being the first consideration when thinking about building or upgrading any factory equipment or automated system. With this evolution from a simple single channel Estop chain to advanced safety certified laser scanners, light curtains and other electronic devices sensing intrusion prior to exposure to a hazard.
Simple relays that were traditionally used as master control relays are simply not acceptable as a means of isolating a factory hazard from causing potential catastrophic injury or death. Modern safety relays and safety PLCs now offer remote safety rated I/O allowing for a faster more cost-effective solution than individually hardwired safety devices. Many also allow for integration alongside existing non-safe PLCs to allow for operator diagnostics and seamless integration to existing HMIs minimizing operational complexity and downtime.
Jet automation has the knowledge and experience to guide you through a new installation or safety systems upgrade to existing equipment selecting the best hardware for your application. We firmly believe safety in the workplace is not optional.